At this point in the COVID-19 pandemic, testing is an essential tool to prevent the spread of COVID-19.  Children are back to in-person child care, school, after-school programs, and sports.  Families are taking trips for vacation or to see relatives.  The omicron and delta variants spread from person to person easily.
When people of different households mix together, they risk spreading COVID-19.  We can reduce the risk with tools like wearing masks and physical distancing, staying home when sick, and getting vaccinated.  When available, testing is another useful tool to reduce the spread of COVID-19.
There are a few reasons to get a test.  Your child should be tested if they have symptoms or if you know they have been exposed to COVID-19.  They may need to be tested when returning to child care or school after a break or vacation.  Their child care program or school may also require regular testing. 
By getting tested for COVID-19, a person can find out if they are contagious and isolate themselves from others so they don't spread the virus.  A school, child care, or sports program can use testing to prevent outbreaks and stay open. 
Types of COVID-19 tests
There are two main types of tests that can tell if a person has COVID-19, even if they aren't showing any symptoms: PCR or nucleic acid diagnostic tests and antigen screening tests.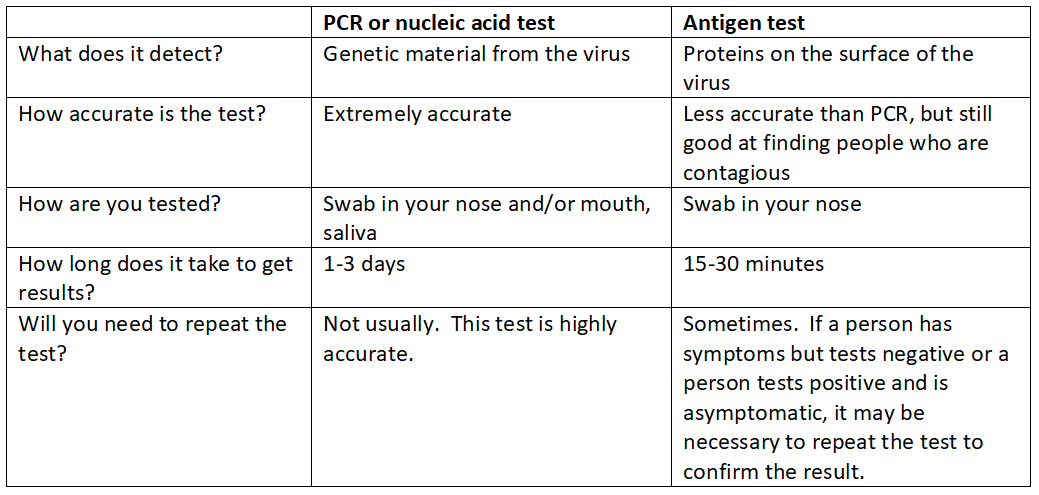 Adapted from the US Food and Drug Administration's "Coronavirus Disease 2019 Testing Basics," December 2021 https://www.fda.gov/consumers/consumer-updates/coronavirus-disease-2019-testing-basics
When to get your child tested for COVID-19
One main reason to get your child tested is if you think they might have COVID-19. 
If your child has COVID-19 symptoms:
Your child will not be allowed to go to school, camp or child care if they have any COVID-19 symptoms.  You can find out if your child has COVID-19 by getting them tested.

If the test is positive, then you and your family should stay isolated from others so that you do not spread the disease. 
If the test is negative, your child can return to school, camp, or child care once their symptoms resolve.
If your child has been exposed to COVID-19:
Your child may have been exposed if they spent time in close contact or indoors with a person who has COVID-19 (or who got sick soon after).  Even if your child is not sick, your child should get tested.
Testing is also being used for groups who will be spending time together regularly in places like classrooms and sports facilities.  Regular testing can catch early cases of COVID-19 before symptoms start, and protect the group from an outbreak.
If your child goes to in-person school, camp, or sports practice: 
If your child plays a sport that is held indoors or does not allow for physical distancing, their team may require regular testing, even if your child has no symptoms. 
Schools and day camps may also encourage regular testing, with or without symptoms. 
Overnight camps are likely to require a negative COVID-19 test from all campers before the session begins. 
When traveling by airplane, people from multiple households share close quarters, sometimes for many hours.  When people travel to other states or countries, they risk bringing COVID-19 to other communities or bringing it back home with them. 
If you fly to another country:
Before you leave, you and your children may need to test negative for COVID-19.  Check with the country you are visiting to find out.
Depending on which country you travel to, you may need a test for your return flight.  Check the Centers for Disease Control's international travel page to find out if you will need to test before getting on the flight back to the US.
After returning home, get tested for COVID-19 if you have any symptoms.  If you are not vaccinated against COVID-19, you should take extra precautions: take a COVID-19 test within 3-5 days and quarantine for the 7 days after your return.  
If you travel within the United States, the Centers for Disease Control (CDC) recommends:
Test your family for COVID-19 no more than 3 days before your trip.  Do not travel if you or your family members test positive for COVID-19.
After you return home, test for COVID-19 if you spent time unmasked in groups of people.
Places to get tested for COVID-19
Your health care provider can test or refer you for testing.
Pharmacies, community centers, churches, local businesses, and other sites are working with the state and counties to provide tests.  To find a test near you, go to https://covid19.ca.gov/get-tested or call your local health department. 
Some schools offer free testing on site for their students and staff.
References and Resources
The Centers for Disease Control (CDC) website contains advice about traveling during COVID-19:
The California Department of Public Health has more on testing: https://covid19.ca.gov/get-tested/#types-of-tests
Updated March 2023, UCSF California Childcare Health Program
This article was made possible with funding from the UCSF Chancellor's Fund and the Heising-Simons Foundation.
Photo copyright 2020 by Barbara Ries, used with permission from UCSF.